With all the new website privacy and cookie legislations that have been introduced in the last few years, pop-ups on website have become the norm rather than the exception, and in turn have become a tedious part of browsing the web… it's normal to have to click 'ok' or 'accept' a few times before being able to see any actual website content. For this reason, pop-up window design has become ever more important.
If you'd like to capture your visitor's attention and possibly their details for newsletter signup, a simple plain pop-up isn't going to do the job. A stunning design is more or less a must, which is why I have been collecting some examples of good pop-up window designs over the last few months.
Here are some of the best ones I have come across – I feel they stand out for their use of bold colour, strong imagery, clean layout and a good, user friendly design – a far cry from the standard templated pop-ups of the many free pop-up plugins out there.
1.Southbank Centre London
A striking duo-tone colour scheme matched to the yellow of the staircase in the background image.
2. Joules Clothing
A lovely floral background adds interest to this clean pop-up window design
3. Netmums
This hugely popular website uses bright neon colours and a near scream to ask people to sign up to their daily email updates.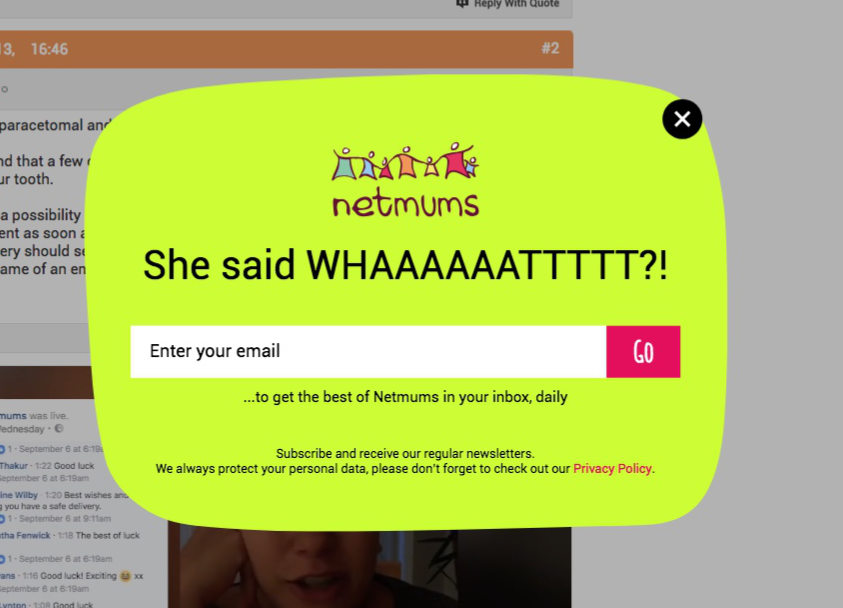 4. Freshome.com
Freshome is an architectural and design blog and they have used a simple image design for their newsletter sign-up form
5. Woolovers.com
This is my favourite. A lovely duo-tone colour scheme, nice use of illustration and a small incentive for newsletter sign up.
6. Secret Linen Store
Another simple but effective pop-up window design using a clean image and text layout.
7. visme.co
This is a website about visual communication and their striking, full page pop-up is a good indication they know what they are doing!
8. Piktochart
Piktochart is an online presentation creator. They have used a striking duo-tone pop-up window design for this newsletter pop-up
I hope that these 8 examples of pop-up window designs have helped inspire you to create more striking and user friendly pop-up windows for your website design project.